Wedding and anniversary cards
These cards are made using white hammer card, pretty paper flowers and ready-made heart cut-outs and perfectly complement the gift-crackers.
The cards are also available as silver and gold anniversary cards.
15cm x 15cm



Gift-cracker kits
Gift-crackers are a special way of giving small gifts for weddings or anniversaries.

Each kit contains a decorated cracker, a snap, confetti and ribbon. Different coloured ribbon – white, silver and gold – can be ordered, depending on the occasion.
Each kit contains a decorated cracker, a snap, confetti, ribbon, congratulatory message, and depending on whether it is for a wedding or anniversary, a balloon in an appropriate colour.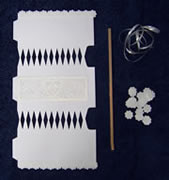 Gift scrolls
If you are planning to give the happy couple a gift of money, vouchers or perhaps theatre or concert tickets, Gift scrolls are a lovely, elegant way of presenting your momento.
Gift scrolls are very versatile – they can, in fact, be used as invitations with a difference. The bride and groom-to-be simply supply the printed invitation and paper for the outer wrapping and Copsewood Arts will do the rest! If you would like further information about this service, please contact Amanda who will be very happy to discuss your requirements.