Christmas artefacts
Nativity decoration
This simple, but effective decoration can adorn a window or wall.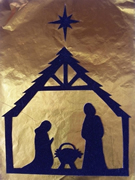 Madonna and child Christmas card
A contemporary depiction of an ancient image. Can be used either as a greetings card or a decorative plaque.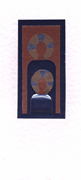 Christmas gift scrolls
Gift scrolls are an elegant and novel way of giving gifts of money, vouchers, and theatre/concert tickets. These special Christmas gift scrolls are made using handmade paper in luxurious Christmas colours.